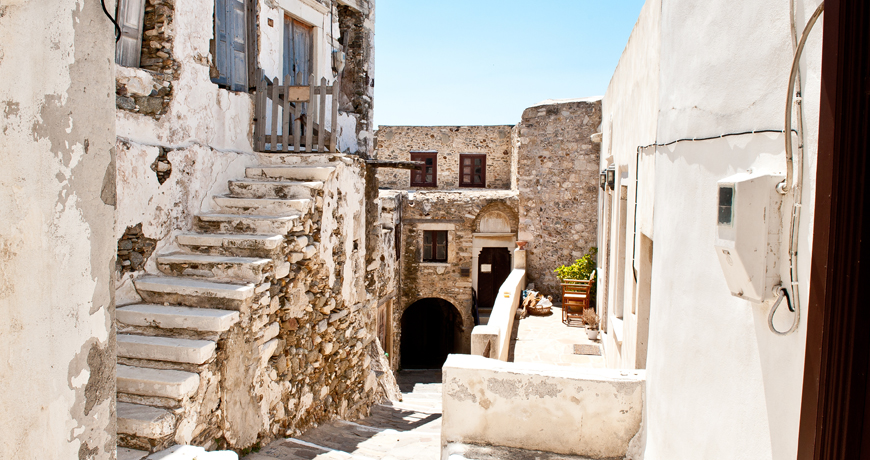 Naxos is the biggest island of the Cyclades, with imposing mountain massifs and fertile valleys, inhabited by cheerful people with a tradition in music and dance. With its long history, important monuments, picturesque villages and natural beauty, it occupies a distinct place among the Cycladic islands.
Agios Prokopios beach ranks as the island's most acclaimed, surpassing all others in terms of distinctions earned, both from Greece and abroad. It has been rated as Greece's third best beach and among Europe's top ten. An enormous beach with coarse sand, the setting here includes sand dunes and crystal-clear waters whose color alternates from blue to deep blue and turquoise.
Agia Anna beach is thea continuation of Agios Prokopios beach A juniper tree forest offering natural shade stands alongside the beach's seemingly endless stretch of golden sand. A picturesque little port with fishing boats lies at the end of the stretch.
Plaka beach is an endless stretch of golden sand, with crystal-clear waters.Iit is a continuation of Agia Anna beach, with sand dunes adorned with sea lilies as a characteristic feature.
The village of Glinado is a farming village, one the three that share the fertile Livadi valley –the largest of the island in its southwest and after which they are collectively named as Livadochoria.  The valley extends from the coast to the hills and Glinado, established around 1650 , spreads out at an elevation of about 100m, features some attractive old, island-style houses and offers panoramic views and beautiful sunsets to watch. A particular feature of the rich flora of the valley is the reeds that divide properties, offer protection from the wind and provide shade in the summer. The church that we find at the entrance of the village is St. Nicodemus, built in 1990. The Glinado today has 505 residents, large farms and livestock.
The village is located 5 km from Hora, Ag. Anna and Plaka.