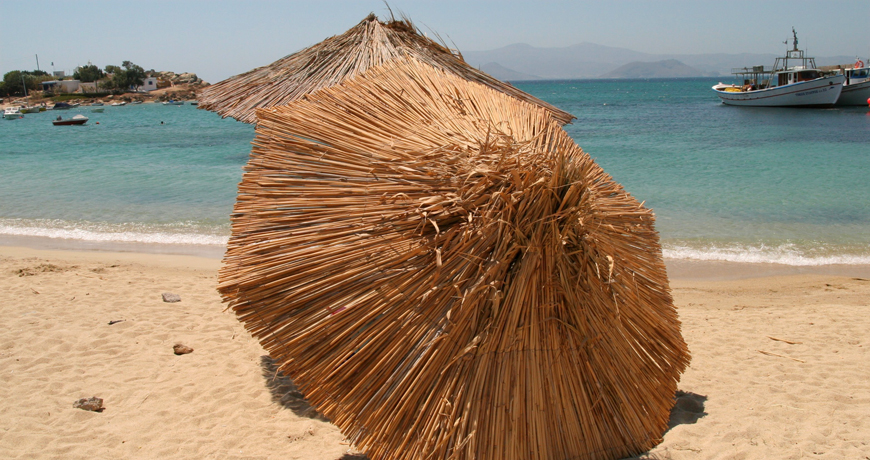 Naxos Yesterday
The island of Naxos has a prominent position in ancient culture, exemplified by the numerous archeological findings that are scattered on the island. According to mythology, Zeus himself was raised in Naxos island and especially worshiped together with Apollo. However the most famous legend is associated with Dionysus and Ariadne. Theseus abandoned Ariadne on Naxos, who earlier had helped him to face the Minotaur. Naxos was prominent from the 3rd millennium marked by the famous Cycladic figurines. During the 6th century BC most of the famous monuments of the island were constructed, such as the famous "Portara", the temple of Dionissos in Iria ,the temple of Demeter and the archaic aqueduct. The island had a strong presence until the Byzantine period, when the decline of the Byzantine naval force contributed to the Venetian expansion, resulting in 1207 the diplomat Marco Sanudo to conquer Naxos and other islands and to found the Duchy of the Aegean, based in Naxos. During the Venetian occupation many Venetian nobles built their castles and mansions all around the island. In 1930 Naxos has been incorporated in the newly created Greek state and it followed the course of modern Greek history since.
Naxos Today
Naxos is the most fertile island of Cyclades. In the south of Naxos, the inhabitants cultivate the famous naxian potato.In the north part of the island they cultivate vineyards and they produce exquisite wine. Naxos is also famous for its olive oil production, its wine and its local: graviera, kefalotyri, xynotiri and xynomizithra. As the Naxian like having fun, they accompany their festivities by their local citrus liqueur from the distillation of the leaves of citron.

Naxos tradition is still alive. The music and dance is a vibrant lifestyle: the syrtos dance, the ballos dance and many others accompanied by traditional musical instruments such as the violin, the lute and the tzampouna preserve the traditional music in weddings, festivals and other events.

Naxos has developed in recent decades the image of the modern tourist resort and a variety of activities are offered to visitors. The beaches are mainly spread in the southern part of the island in an area of 25km and they give the opportunity to practice water sports such as windsurfing, kitesurfing, sailing, diving or beach volley. Naxos has beautiful mountain trails. The dozens of trails that traverse Naxos lead to beautiful places, many of which are only accessible via walking paths so trekking, hiking and cycling are recommended.